Reviews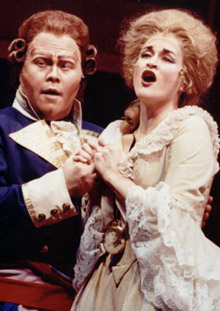 Canadian mezzo-soprano Sandra Graham, regal in bearing and as beautiful to listen to as to watch, has a voice that is rich and even from top to bottom. Her technique is superb, especially in the use of "portamento"; the graceful sliding between high and low notes that is the mark of authentic Italian opera singers. [Oregon Bach Festival -Verdi Requiem, Helmut Rilling, conductor]
Arnulf Zweig The Register-Guard, Oregon, USA
Part of the scene's success was due to the deliciously cheeky performance of mezzo-soprano Sandra Graham, who sported through the role of Baba the bearded Turk like a combination of Salome and Moses. (The Rake's Progress, with Vancouver Opera)
Robert Everett-Green, The Globe and Mail
...high standards of style, musicianship, intonation, and interpretation...astonishing mastery of the vocal part....Her delivery was controlled through every syllable of every line. [Pierrot Lunaire]
Robert Everett-Green, The Globe and Mail
Sandra Graham: a magic beautiful voice with a feather light vibrato. Graham sings with no disturbance in the line even in the deepest register. Intelligence and taste were together in this special beautiful young lady. No quasi-emotion, no wringing of hands – in my conclusion a polished, complete singer.
Ank Reinders – Mons und Melodie, Netherlands (transl.)
...always in good voice, and always conscious of the character of the music. [Pergolesi's Stabat Mater – Montreal Symphony Orchestra, Charles Dutoit conductor]
Eric McLean, The Gazette, Montreal
Sandra Graham was magnificent all around: her ample mezzo voice displayed warmth in the extremes (always free) and avoided pushing in the lowest passages – an even flow from top to bottom. A beautiful musician also, her duets with the soprano were very moving.
Marc Samson – Le devoir, Quebec
Sandra Graham is, with solid coloratura and a powerfully round mezzo voice, a convincing Cinderella. (Rossini's La Cenerentola-Germany)
V.M. – Wiesbadener Kurier
Sandra Graham's darker instrument brings life and energy to Nettie Fowler. It was quite a coup to present one of Canada's finest concert singers to this cast, and good fun to hear Graham leave behind her usual run of Messiahs for an invigorating "June is busting out all over!". [Rodgers and Hammerstein's Carousel, Calgary Opera]
The Herald, Calgary
Vocally, this is an ensemble Cosi – all are good voices, but with one exception, none are capable of bringing down the house alone. The exception, Sandra Graham, as Dorabella, is a seasoned professional with ample, restrained power: she never overshadows her colleagues, for she knows Cosi is an ensemble piece. [Mozart's Cosi fan tutte with Pacific Opera Victoria]
Monday Magazine, Victoria
Sandra Graham, a delight for the ear and eye with her creamy-textured voice and fetching stage presence. [Suzuki in Puccini's Madama Butterfly with the Calgary Opera]
Opera Canada
The person who really impressed me the most was Sandra Graham...She sang the role with a passion....She was brilliant, charming, and all the nice things you say about people who amaze you with their talents. [Prince Orlofsky in Die Fledermaus, Calgary Opera]
The Gauntlet, Calgary
As his nemesis Dalila, Sandra Graham was in superb form. By turns alluring and forceful, her mezzo was equal to all challenges of the role and she and Frey, together, made the second act tremendously exciting. [Saint-Saen's Samson et Dalila, with Opera in Concert, Toronto]
Opera Canada